​Butterfly Haven has skilfully adapted a large stately home to our needs and so retains a sense of personality and privacy which sets it apart from larger facilities.
Butterfly Haven Facilities
We have beautiful gardens on a 1 hectare property.
An undercover walkway around the front of the building granting easy wheelchair access, with an outdoor swimming pool.
2 shared wards for children (air conditioned, en-suite bathroom with shower stretcher for washing disabled patients.
4 private rooms (air conditioned, en-suite bathrooms).
Isolation Ward – should this be a requirement post-surgery discharge from hospital.
Capacity: 25 patients.
Soft Play Area (used for play and therapy)
Water Therapy Room with heated jacuzzi
Multi-Sensory Room with bubble tank and lights
Physiotherapy Studio
Occupational Therapy Studio
Lounge/TV Room
Dining Room
Kitchen
Laundry
Sick Room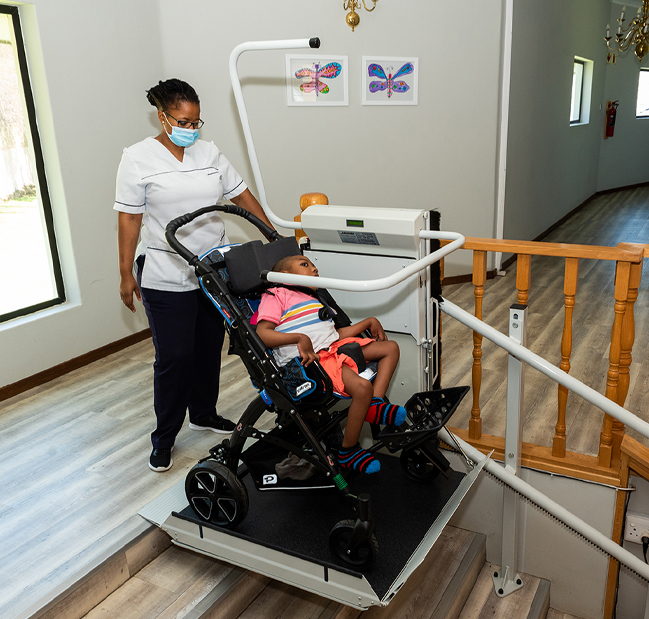 Portable Oxygen
Platform stair lift for wheelchair access
CCTV cameras in rooms
Generator back up
24hr Controlled property access
Butterfly Haven Rehabilitation Treatment Programs and Care Services
Caregivers on site
Our dedicated Caregiver Service is provided by 365 Patient Care Services . This is a professional external private caregiver service that contracts directly with the parents/guardian according to the resident's specific needs.
Physiotherapist
Occupational Therapist
Speech/Swallowing Therapist
Equestrian Therapist
Psychology/Counselling services

Butterfly Haven also welcomes external therapists should this be requested.
24 hour professional medical services are available via a medical doctor
Dietician consultations
Netcare 911 is our emergency medic supplier for life threatening situations
Online or Telephonic Consultations with specialist physicians
Pharmacy Delivery services
Laboratory Services
Therapists and case managers will develop a personal rehabilitation plan incorporating the necessary diet and therapy according to the resident's specific needs. The resident nursing staff, caregivers and therapists will ensure these plans are followed daily for each resident.
Daily Stimulation Options
Apart from personal rehabilitation plans, the following daily stimulation options are available:
Pathways School (1km from Butterfly Haven):
Offers Profound Education Curriculum UK, The SNAP Programme RSA, AAC Intervention, Neurodevelopment Therapy and Sensory Integration.


Daily Activities Include:
Circle Time – Each day starts with a morning ring which includes greeting songs, days of the week, weather, letters, numbers and theme introductions.
Literacy and Numeracy – To promote cognitive development and expand knowledge and language acquisition, Pathways provides our children with the opportunity to explore literacy and numeracy in a fun and exciting way suited to their level of understanding.
Computer Time – Pathways uses iPads and switch adapted computers to promote the understanding of cause and effect and develop literacy, numeracy skills, visual, auditory skills, as well as plenty of fun. The computers and iPads are accessible to all the children, the accessibility and instant feedback provides plenty of motivation to explore and learn new skills.
Swimming Therapy – Pathways has their own outdoor heated swimming pool, which is used as much as possible for therapy and recreation when the weather permits. It is the absolute favourite activity with all the kids.
Horse-riding Therapy – Each class is taken to horse-riding therapy once a week to Equiteam at Harveston Stables in Honeydew. Horse-riding therapy relaxes tight muscles, strengthens core muscles and improves balance. It also helps calm challenging behaviour. The therapy is thoroughly enjoyed by all the children.
Art and Crafts – The children engage in plenty of art and craft activities like painting, drawing, pasting and baking.
Sensory and Messy Play – Pathways has sensory rooms, filled with lights and different textures and toys to play with. The children also enjoy playing with shaving cream, finger paints, beans and macaroni. So much fun to make a big mess!!
Music Time – All of our children love music and a music lesson is held once a week for each class, where the children are exposed to instruments, songs and different sounds and movements.
Life Skills – Pathways aims to help our children be as independent as possible and work on self feeding, dressing, grooming and toilet training. The older children enjoy shopping activities, cleaning, cooking and baking activities.
Therapy activities – Private therapists provide therapy as per request from the parents. Facilitators are trained by the therapists and the treatment programme compiled by the therapist is carried out daily by the facilitators.
Gateway School: (3.5km from Butterfly Haven)
Offers National Curriculum for learners with special education needs from Grade R to Grade 5 incorporating Core Subjects such as Life Skills, Natural Sciences and Creative Arts and additional skill subjects for more advanced learners such as Administration and Consumer Studies. The school also offers sport as well as on-site therapies provided by physiotherapists and occupational therapists.
On-site Training Workshops for caregivers/parents are available covering the following:
For those caregivers/parents who are in need of assistance in coping with the significant demands of caring for a disabled family member, on-site counselling can be arranged.